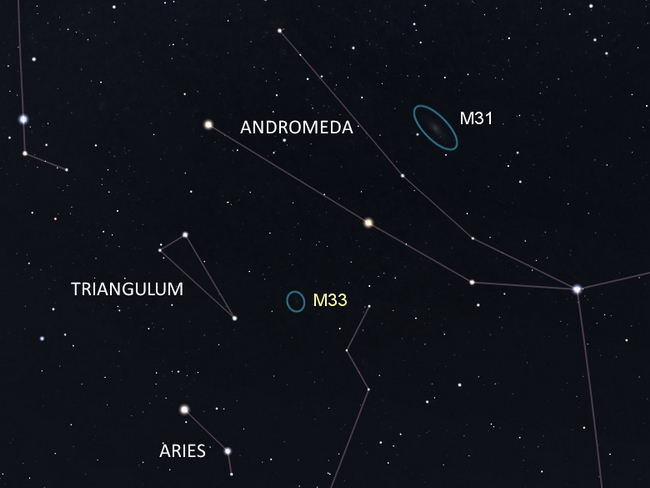 Evenings over this weekend are moonfree, offering backyard astronomers an opportunity to enjoy some of late autumn's celestial treasures, including the lovely spiral galaxy M33, in Triangulum.
Although catalogued as a magnitude 5.7 object, M33 can be difficult to observe in a light-polluted sky. That's because the galaxy is both large (more than one degree across) and nearly face-on; consequently, its light is spread out across a substantial area. In a telescope, M33 can be reduced to a pale cloud, its surface brightness so low that the galaxy simply blends in with the background sky glow. Indeed, few bright deep-sky objects suffer as gravely from the effects of light pollution as M33. In ideal conditions, far from town, M33 can be glimpsed with the naked eye, but from the suburbs it's often hard to detect even in a good-sized telescope.
If you do succeed in observing M33, bear in mind that it's one of the few galaxies that has its own built-in deep-sky objects. Most conspicuous is a knot of nebulosity lying northeast of the galaxy's centre. Listed as NGC604, this little blob can be spotted with a 4-inch scope in less-than-pristine skies. The secret is to boost the magnification well beyond what you would use to view M33 itself.
To read more about what's happening in the current sky, be sure to check out my regular This Week's Sky column at SkyNews.ca.