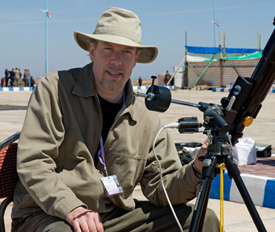 An award-winning writer, experienced lecturer, observer, and equipment reviewer, Gary Seronik has been fascinated by the night sky since childhood. Indeed, he began subscribing to Sky & Telescope magazine in 1973 when he was only 12 years old! "The truth is, I can't remember a time when I wasn't drawn to the night sky. Maybe part of the reason was that my family lived on an orchard under a splendid, dark rural sky. For me, the stars were as much a part of nature as the birds in the trees and the bugs crawling on the ground," he recalls.
In the early 1990's, Gary's passion for sharing the wonders of the night sky eventually lead him to the H.R. MacMillan Space Centre in Vancouver, British Columbia, where he wrote and produced planetarium shows. In 1996 he began writing for S&T and joined the staff full-time as an associate editor in 1998 and was a contributing editor until 2016.
In 2016 Gary took over from Terence Dickinson as editor of the highly regarded Canadian astronomy publication, SkyNews.
Gary enjoys a wide range of observing pursuits from studying intricate details on the surface of the Moon to seeking out faint fuzzies at the limits of perception. One of his favorite activities is binocular observing — as regular readers of S&T know from his popular monthly Binocular Highlight column. A compilation of has articles, Binocular Highlights: 99 Celestial Sights for Binocular Users has recently been published and has risen to #1 in its category at Amazon.com several times since its release.
But when it comes to his absolute favourite telescope target, Gary will quickly tell you that for him, nothing beats the Moon — though Jupiter comes in a close second. His lunar observing and imaging skills are put to good use at S&T. Gary served as editor for the new edition of Antonín Rükl's classic Atlas of the Moon and for Charles A. Wood's highly regarded book, The Modern Moon. But of all the Moon products he has helped bring to fruition, Gary is proudest of the recently published Field Map of the Moon, which he regards as the ideal telescopic companion for dedicated lunatics like himself.
Over the years Gary has ground mirrors for numerous homebuilt telescopes, several of which have appeared in the pages of S&T. Many of the magazine's readers will remember articles describing his 6-inch f/9 planetary Newtonian and his 8-inch f/4 travelscope. Currently, his favorite instrument is his home built 12¾-inch Dobsonian travelscope, which has already flown with him to a number of far-flung locations, including Costa Rica.
Gary continues to enjoy exploring the night sky, making telescopes, and writing about it all from his home near Victoria, British Columbia.
(For more information, you can read an interview with Gary here.)